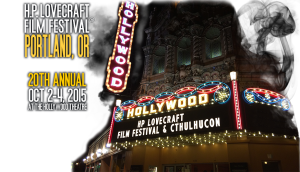 So I have awoken from the first night at the 20th Annual HP Lovecraft Film Festival, something that I have been attending since 2003 (I think?). So far I'm having a excellent time.
Road down from Jet City with a friend and his son in a Prius, dined on some belt sushi outside of Tacoma. Had our annual laugh-because-we-cannot-cry at the "Uncle Sam Billboard" outside Chehalis. Pulled into Portland, Oregon with hours to spare. Got our rooms at The Banfield just off I-84 and Sandy Boulevard. Barely two blocks from the historic Hollywood Theater where the festival has always been held.
The Festival, as always, has much more material than can be viewed or participated in three days. In addition to films, there are author readings, writer and scholar panels, merch and tchotchkes and in recent years the addition of games and related game materials.* All of this is tied into Lovecraft subculture.
Anyway because of this packed set of events, I always optimize my schedule to watch all the shorts blocks. This is because the feature length films are often easier to get hold of later by disk or download. But enough details. Let's talk about what I saw and what I thought about it.
I was in the main theater on the ground floor of the Hollywood. This was where shorts block one would eventually be shown, after some opening events and a rescreening of an excellent feature length which I can't recommend highly enough.
The opening events included some live action recreation of the movie going experience of the twenties and early thirties including masters of ceremony, ushers and cigarette vendors. Back in ancient days, going to the movies was a much more glamorous affair than our modern, high throughput, high turnover, cineplex paste. In the early days music hall owners, always looking to make a buck, took advantage of the new film technology and films were sometimes shown in conjunction with live vaudeville and musical theater.
And this was the look and feel that the Howard Phillips Lovecraft Historical Society were recreating here prior to their rescreen of their first feature length film: The Call of Cthulhu. The events were also to promote the HPLHS' latest project, a series of CDs done in the style of old 1920s and 1930s radio serials and all influenced by Lovecraft's work.
I mostly sat out of this opening material because it included some burlesque that, honestly, I'm too much of a prude to watch. My apologies to all the performers involved, I know they worked very hard–I'm just too square.
But I came back into the theater just in time to watch the rescreening of The Call of Cthulhu, which I first saw at the festival back in 2005. As you can guess from the title, the film is very close adaptation of Lovecraft's now famous short story.
It's done the style of 1920s silent films, with a strong influence of German Expressionism and Russian Constructivism, and is very well acted and directed. Considering the tiny budget they had, the HPLHS came up with a very slick and well shot result. And it holds up on repeated viewings. This is a good film! I recommend it highly.
After this came the first shorts block
"Hum"

Directed by Bossi Baker. I liked this one. It's about a young woman who's apartment is haunted a sourceless unceasing reverberation. This drives her insane. Simple and well crafted.

"The Whisperer in Darkness"

Directed by Avishai Weinberger. This one wasn't very good. It felt like an bad film school student project.

"The Picture in the House"

Directed by Josh Deane. A retelling of Lovecraft's classic about forbidden books and cannibalism. I felt this was actually pretty acted with good portrayals of gathering fear and  forced, creepy camaraderie.

"Pickman's Model"

Directed by Pablo Angeles. A CG animation with a distinctive look and nice pacing but then it drags out the end in a way that really lessens the tension of the story.

"Mercy"

Directed by Sean Beau. A group of friends find a strange monster dying on the beach. Strange infections follow. A simple story and I liked what Beau was doing here. First contact with alien life might be dangerous in lots of unexpected ways.

"Tesla vs Cthulhu"

Directed by Jeff Richards. This one is not strictly Lovecraftian but is strongly influenced by the tropes. Richards clearly intends this to be a series of dieselpunk daring do. Well acted and skillfully executed.

"Autumn Harvest"

Directed by Fredrik S Hana. After the loss of his wife, a fisher makes a dire bargain with forces he does not understand. Well shot and well acted but actually I've seen evil mermaids/Innsmouthian themes pretty repeatedly at the festival. I'm getting pretty tired of it.

"Cat Killer"

An rotoscope animated film very loosely based on Herbert West. Ultimately it's about revenge on cats. Beautiful to watch.

"The Old Man and The Goblins"

Directed by Seamus Walsh and Mark Caballero. Stop motion puppet animation about a hermit who is beset by goblins. A combination of beautiful and grotesque but it wasn't that strongly memorable to me.

"Flesh and Bone"

Directed by Brett Stillo. A music video shot in San Francisco which mashes up film noir, post-goth and Lovecraft. Slick and skillful but not memorable. Sadly the music was forgettable too and doesn't measure up to the best of 4AD.
And that's it.
* I agree that the games are relevant simply because of Sandy Peterson's much beloved, and epoch defining, tabletop roleplaying game, Call of Cthulhu. This game essentially introduced my generation to Lovecraft when, as unlettered high school students, his books or stories might not have. If you use the expression "sanity check" you can thank Peterson for this.